Enhancing Cultural Exchange
International Exchange Festival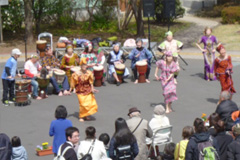 With the help of Association for International Communications supporters, universities, various organizations within the ward, and volunteers (including foreigners), we have planned opportunities for ward citizens to interact with foreigners and learn about other countries' cultures through performance.
Sports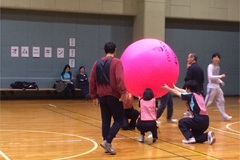 We run a sports event every year in the fall to facilitate cultural exchange between people from many different countries. In previous years, participants tried their hand at kin-ball, taikyoku-juryokukyu, and sports chanbara.
Cool Summer Night Party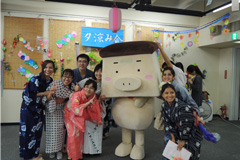 This party is held every year on the third Thursday of July. Yukata are available to try-on for anyone who is interested. Over 100 volunteers work hard to provide traditional Japanese cultural activities such as Bon Festival dance and festival stalls. All of the yukata are donated by residents of Nakano City.
Cooking Class
「The World Cuisine Cooking Class and Japanese Cuisine Cooking Class are both held annually. The APG volunteer group creates the menu for the Japanese Cuisine Cooking Class, which is mainly for foreigners. As for the World Cuisine Cooking Class, foreign residents living in Nakano City demonstrate how to make dishes from their home country. In the past, we have enjoyed delicious foods from Vietnam, Thailand, and the Philippines.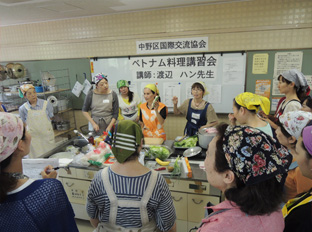 World Cuisine Cooking Class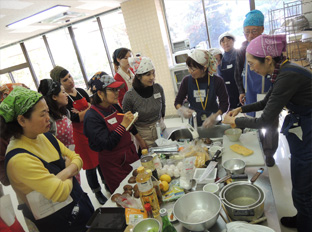 Japanese Cuisine Cooking Class
International Exchange Cafe
Conversation between Japanese people and foreigners, with a different theme each time. Volunteers exchange ideas and plan various events, including speeches from foreign guests, summer festivals, and seasonal events such as Halloween. These events alternate monthly between Nabeyoko Community Center and Saginomiya Community Center. All events are announced on our website. Anyone is welcome.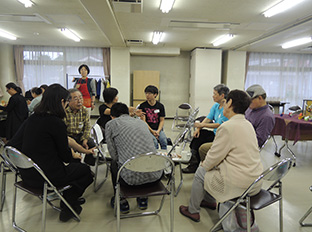 Nabeyoko International Exchange Cafe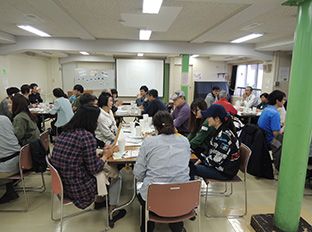 Saginomiya International Exchange Cafe
Outdoor Events
Every year in the spring time, we have an outdoor event (planned by the Friday Volunteer Group). In previous years, we have enjoyed barbeques during cherry-blossom viewing parties and other years we have watched sumo at the Ryougoku Sumo Hall.